5th Wheel / Semi Truck Pin Pullers
High-quality pin pullers for 5th wheel trailer hitch. The ergonomically correct handle is designed for safety with ease and effectiveness in 5th wheel release. No more reaching under the trailer! Additional uses include pallet hooks, grate pullers, freight pullers, etc. Constructed in .375 diameter powder coated steel construction.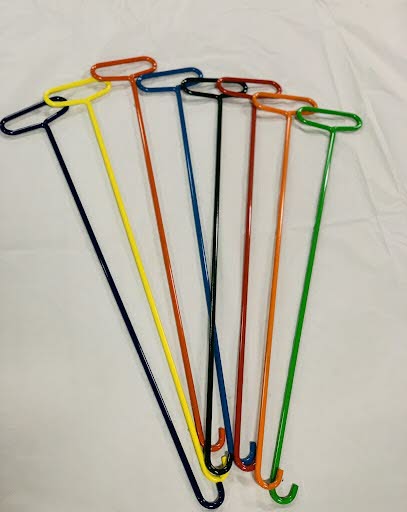 Standard pin puller include your choice of:
Red or black color
180 degree or 45 degree end
32.5" in overall length
Additional colors (as shown). Different "end" per customer specs (angle, orientation and/or overall length). Addtional charges may apply.
Tomlinson is a leader in trucking safety products and semi-trailer safety equipment, in addition to products for truckers that make things better, easier, more efficient. Perfect for your truck stop.
Product Brochures (PDFs)
At Tomlinson Manufacturing we are dedicated to making things better, easier, more efficient and safe. Need to make stuff? Tomlinson can help!